She's got the most contagious laugh in the office and always has a smile on her face and a pocket full of sunshine. Here's the Cammy employee spotlight on Eliana and how she uses Cammy:
Hi! Who are you and what do you do at Cammy?
Hi! My name is Eliana and I'm the Internal Apps Manager at Cammy. Don't get fooled by the fancy name though – what I've been doing all my life is organise people and systems to optimise processes.
I'm also Queen of the faux grass chill out area at Cammy…
…But you're always welcome to join me, we can even play mini golf!
How do you use Cammy?
I use Cammy to watch over my life…by that I mean my apartment and valuables as I recently moved my entire life from Argentina to Sydney. I also have a Cammy Penguin indoor camera on my desk at work to monitor the company goldfish. Just keep swimming!
What's your favourite moment caught on Cammy?
I have so many favourite moments but the crème de la crème is definitely this one prank I pulled on my coworker…
I was working from home and decided to check Live View to see if anything interesting was happening at work. To my surprise, one of my coworkers was sitting at my desk (don't worry, he was simply chatting to another coworker). That was when I decided I'd scare the living daylights out of him…
I pressed the microphone button on my Live View and put on a sombre voice, "WHAT ARE YOU DOING SITTING AT THIS DESK". Safe to say, he leapt off the chair faster than Usain Bolt!
I don't have a picture of that moment but here's my coworker Melih eating my chocolate and drinking my Coke! Check out that HD goodness: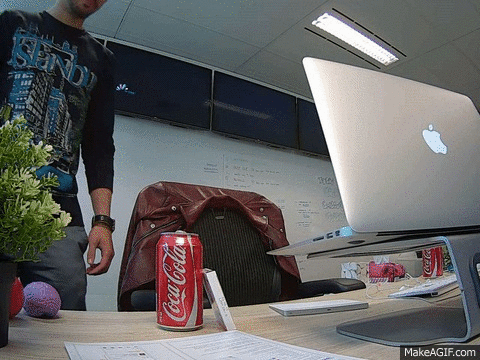 Describe Cammy in 5 words
Clever and cool: Cammy combines machine learning with human interaction, which is innovative and reliable.
Adaptable: there are a multitude of different uses for Cammy. Check out how my coworker Imogen uses Cammy.
Mobile: you can monitor what matters most to you from anywhere, anytime.
Monitoring: no matter what your objective is, Cammy has you covered. Use it for security, checking in with your kids coming home from school and telling Fido to get off the couch.
You: ultimately, Cammy is a user first app. We have a fun team of amazingly talented people that are there to support you round the clock!
Hope you figured out what the first letters of those words spelt out – CAMMY!
If you enjoyed this post, look out for next week's Cammy Employee Spotlight to find out more about us and how we use Cammy – the only camera-based alarm system that guarantees no false alarms.